Guru Gobind Singh Study Circle
Guru Gobind Singh Study Circle Wing of Gujranwala Guru Nanak Khalsa College, Ludhiana aims to create awareness about rich and glorious Sikh heritage among youth to remove social and other evils from society.
The wing undertakes following activities in the college:
Intra-college youth fairs, contests of recitation of gurbani, poems, lectures and quiz contests are organized at the college from time to time. The main aim of these contests is to provide an opportunity to the Youth to display their talent on the common platform as well as to inculcate in them interest for Sikh cultural.
Every year, Guru Gobind Singh Study Circle conducts moral education exams in different states of India. These examinations are conducted so that the students should have spiritual knowledge along with academic knowledge.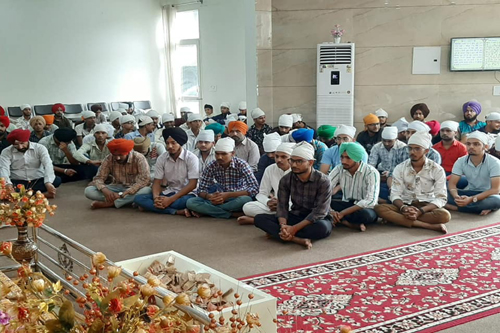 Personality development workshops are organized the wing in college to create social awareness regarding religious values among the students. The different aspects of personality development of children are highlighted as per Gurmat so that all round preparation may be made for bright future.
In association with Gurmat Sabha, this wing organizes the celebration of Gurupurabs in the college, to create a firm determination in the heart of students regarding religion. Poetry contests, lectures and Quiz arranged during these Samagams.
Sikh students are encouraged to wear "Turban" in the college campus. 'Dastaar Bandi' competitions are also held annually, and best students are awarded to motivate them.