The National Cadet Corps (NCC) has its genesis in the "University Corps", which was created under the defence Act, 1917 With the object to make up the shortage of the army. In 1920 "University" was replaced by the "University Training Corps". In 1942 UTC was renamed as the "University Officers Training Corps" (UOTC). The need to create a youth organization at National Level to train the young boys and girls to be better Citizens and future leaders of our great country in all walks of life, including defence forces was rightly realized by our leaders. A committee under Pandit H N Kunzru was set up in 1946 at the behest of our first Prime Minister, Pandit Jawahar Lal Nehru. The NCC came into existence on 16th July 1948 under the NCC Act XXXVI of 1948 under the ministry of defence.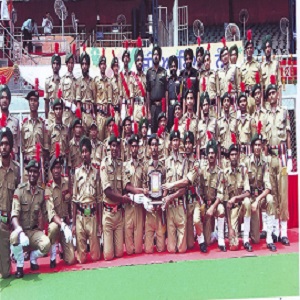 The NCC Motto is Unity and Discipline
To Develop character, comradeship, Discipline, Leadership, Secular outlook, spirit for adventure, sportsmanship and ideals of selfless service among the youth of the country
To create a trained and motivated youth to provide Leadership in all walks of life.
To Provide a suitable environment to motivate the youth to take up a career in the armed forces.