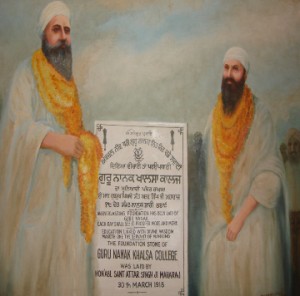 A prestigious institution with a century old glorious history of providing quality education and well known as 'Nursery of Vice-Chancellors', Gujranwala Guru Nanak Khalsa College, Ludhiana (Punjab) is committed to encourage, support, guide and is also the first one to lend a helping hand as and when the students and society requires. Originally established in C.E. 1917, as Guru Nanak Khalsa College at Gujranwala (Now in Pakistan) in 1917 with a aim of dispelling the darkness of ignorance, spreading the light of knowledge to all corners of society and enabling all sections of society to make progress in every sphere of life through education. Our college is the first college named after Guru Nanak, the founder of Sikhism. With the passage of time, Guru Nanak Khalsa College soon became one of the leading educational institutions in the country. After the partition of India, it was re-established in 1953 at Ludhiana. After re-establishment, the college is now known as Gujranwala Guru Nanak Khalsa College. With the addition of the word 'Gujranwala' in the name of college, it has emerged as an institution which symbolizes the shared and glorious heritage of India-Pakistan and West-East Punjab.
Presently, Gujranwala Guru Nanak Khalsa College is affiliated to Panjab University, Chandigarh. It is a fully wi-fi, Multi faculty, Post Graduate and Co-educational College and it is. The college is approved under section 2 (f) and 12 (B) of the UGC Act, 1956 and NAAC accredited Grade B with CGPA 2.63 on four point scale along with ISO certification 9001:2015. The University of Wolverhampton (United Kingdom) has signed a MoU with the institution for the promotion of research, Sikh heritage and cultural exchange programmes. We have also signed a MoU with Punjab Bhawan (Surry) Canada to promote Punjabi Immigrants' Literature. Presently, we have laid our focus on promotion of Academic Research, Vocational Education, ICT and Eco friendly practices. We have made a significant and tenable progress in these spheres.
Gujranwala Guru Nanak Khalsa College has always been fortunate to have the opportunity to perform its sacred duty of imparting education in the light of the teachings of Sri Guru Granth Sahib under the patronage of eminent, far-sighted and sincere personalities associated with our college have achieved remarkable achievements by attaining the posts of Vice Chancellors and Pro Vice Chancellors and have become source of inspiration of our faculty members and students. For instance, Dr.Jodh Singh and Dr.Kirpal Singh Narang (Former Vice Chancellors, Punjabi University, Patiala), Dr. K. S. Gill and Dr. S. P. Singh (Former Vice Chancellors, Guru Nanak Dev University, Amritsar) and Prof.Prithipal Singh Kapur (Former Pro Vice Chancellor, Guru Nanak Dev University, Amritsar). At present it is a matter of great pride for our college that presently, we holds a unique place in the field of academic sphere under able, dynamic and visionary leadership of Dr. S. P. Singh former Vice Chancellor of Guru Nanak Dev University, Amritsar and President of Gujranwala Khalsa Education Council.
The alumni who had made the institution proud are in plenty and just to mention a few chosen ones are: Mohd. RafiqTarar who rose to be the Judge of Supreme Court of Pakistan and after retirement was elected as President of Pakistan. Late Professor Mohd. Yusuf Abbasi of first batch of graduates (1937-41), an eminent historian of Pakistan, served as Pro Vice-Chancellor of prestigious Qaid-i-Azam Jinnah University, lslamabad. S. Jasbir Singh Bawa passed intermediate in 1938 to enter R.l.M.S. (now N.D.A.) to rise to the position of Lt. Genl. and receive decorations AVSM PVSM. BL. Kalra graduated and earned appreciation from the Principal as 'our scholar; sportsman, counsel and musician'. He became a leading lawyer of Supreme Court of lndia. K.S. Narang, a distinguished bureaucrat made a name in lndian Punjab. His contribution to the establishment of P.A.U., Ludhiana and green revolution is remembered with gratitude. Since 1953 onward, our alumni have managed to make their presence felt in every sphere of life. Among the men of letters, Gurbhajan Gill (poet), Shamsher Sandhu (Lyrcist), Paras (English novelist) names continue to echo. On the field of sports, Nirmal Singh Grewal, a silver medallist of ASIAD and Raminder Singh (Olympian Hockey Captain) brought us fame. ln public life, our contribution has remained more than discernible, Charanjit Singh (Ex-Speaker, LokSabha, 2-terms Speaker of Punjab VidhanSabha), Avtar Singh Makkar (President, SGPC), Maheshinder Singh Grewal (Political Advisor to Chief Ministet Punjab). K.S. Chawla, a veteran journalistic (Tribune English) and Mohit Khanna presently Staff Reporter (Crime) in the same paper bear our imprint in journalism. ln recent times, our alumnus has become hyperactive in cultural scenario of Punjab Punjabi music and signing being their forte (well-known SurinderShinda, Prabh Gill and many more).
In the current era of market economy, educational institutions are now engaged in the business of education for the purpose of making huge profits. However, on the contrary to prevailing trend, Gujranwala Guru Nanak Khalsa College, while rising above the profit and loss equations considers its moral duty to provide quality education keeping in view the needs and compulsions of all sections of the society. Our ultimate goal is always to provide quality education to the students as well as to develop their personality in all respects. We try our level best to encourage our students to dream of their bright future and enable them to realize their dreams. In addition to imparting knowledge on various subjects, we strive to inculcate in our students a sense of social responsibility. We motivate them to keep their surroundings clean and green and also strive to encourage them to make the divine and universal teachings of Sri Guru Nanak DevJi a part of their practical life.
Presently, Our College offers UG and PG degree courses in various streams. At the Under Graduate Level, we have B.A., B.Sc. (Non-Medical), BCA, and B.Com. At the Post Graduate Level, we have M.Sc. (Chemistry), M.A. (English), M.A. (Punjabi), M.Com, PGDCA and PGDMC. We have some Add on courses like Communicative English, Journalism and Bank Management. In addition to this we have some vocational subjects like ASM and FTTP. In addition to traditional courses, we have recently started some Skill Development based courses at the under Graduate Level, presently, we are running four B.Voc. Courses B. Voc.(Web Technology and Multimedia), B.Voc. (E-Commerce and Digital Marketing), B.Voc. (Banking and Financial Services), B.Voc. (Retail Management). Under Community College Scheme we have three Courses Hardware and Network Maintenance Technology, Accounting and Taxation and Travel and Tourism Management. Recently we have got approval of NINE New Skill Based Courses under National Skills Qualifications Framework (NSQF) for the Academic Year – 2020-21 viz., Diploma in Telecom/Mobile maintenance Technology, Diploma Healthcare/Mental health and counseling, Diploma IT/Website Designing and Management, Diploma Media and Entertainment/Print and Electronic Media, Diploma Media and Entertainment/Video Production and Editing, Diploma Sports, Physical Education and Fitness/Wellness Yoga and Physiotherapy, Diploma in Management and Entrepreneurship/Customer Service Training, Diploma in IT/Office automation and E Governance nd Diploma in Performing Arts. We also offer some short term ISO Certified courses like Certificate in Web Designing, Certificate in Basic Computing, Certificate in Hardware Assembly & Maintenance, Certificate in Desktop Publishing, Certificate in Accountancy (Tally) and Certificate in Computer & Office Applications.